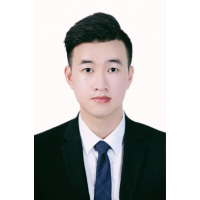 Nguyễn Phi Hùng
Sales Manager
I graduated Otago Polytechnic with a Diploma majoring in Hospitality Management. As a result of studying at an international academic environment and working at several jobs from an early age, I gradually become a hardworking, reliable and responsible employee and I am always learning from the others and aiming for the best. During the time of exercising as a hospitality professional, one of my most significant jobs was when I worked as a Restaurant Duty Manager (Acting Area Manager for five restaurants in the group) at Asian Garden Hospitality; which was the busiest outlet out of 14 restaurants within the Group. I not only performed the managing role both front of house and back of house of the outlet but also assisted the others, which included staff training of over thirty employees and to keep up the standards both in food and customer service. I successfully helped the outlet achieve monthly and yearly revenue target and furthermore get it into top five restaurants on TripAdvisor. Besides, during six months of being a Senior Restaurant Supervisor at Vietdeli owned by Paradise Group, I relocated to Hoi An in order to build and improve daily operation of the restaurant and also recruit the new manager to fill into the roll. My leadership skill was demonstrated and enhanced by uniting the staff members and different departments together so as to strengthen the internal relationship; thus, to excel the customer experience delivered at the house and to maximize the resources. The hospitality environment is always a place where I can represent my strengths, potential and also my passion and devotion in contributing much more than just customer service but a part of customers' journey and memory.
Họ và tên
Nguyễn Phi Hùng
Địa chỉ
Đội Cấn, Ba Đình, Hà Nội
Kinh nghiệm làm việc
Từ 5 đến 10 năm
Vị trí
Trưởng bộ phận/ Trưởng phòng
Mức lương mong muốn
20 - 30 triệu
Nơi mong muốn làm việc
Tiếng Anh (Giỏi)
Ngoại ngữ
Tiếng Anh (Giỏi)
Mong muốn về công việc
• Green - A young, energetic environment. • Healthy - An environment with healthy competition to encourage everyone to become their better-self. • Professional - A professional environment where employees know exacly what they need to be done and provide tools and support to get things done. • Improvement - A clear carrer path for employees. Who will they become, how will they get there, how long will it take and what will the company be able to give a hand in.
Kỹ năng bán hàng, phục vụ khách hàng

100%

Training and Development

80%

Kỹ năng thuyết phục khách hàng

80%
Logan Park High School
Trung học -
2009 - 2012
Otago Polytechnic
Quản Lý Khách Sạn - Đại học -
2014 - 2016
I graduated Otago Polytechnic with a Diploma majoring in Hospitality Management. As a result of studying at an international academic environment and working at several jobs from an early age, I gradually become a hardworking, reliable and responsible employee and I am always learning from the others and aiming for the best.
Trainee tại 315 Euro Motel
Dunedin, New Zealand -
1/2014 - 7/2014
• Student Placement [Receptionist] • Welcomes visitors by greeting them, in person or on the telephone; answering or referring inquiries • Maintains security by following procedures; monitoring logbook; issuing visitor badges. • Maintains safe and clean reception area by complying with procedures, rules, and regulations.Maintains continuity among work teams by documenting and communicating actions, irregularities, and continuing needs. • Contributes to team effort by accomplishing related results as needed.
Waiter tại Technique Restaurant
Dunedin, New Zealand -
2/2014 - 7/2014
• Vocational training as Waiter/ kitchen hand • Providing excellent wait service to ensure satisfaction • Taking customer orders and delivering food and beverages • Making menu recommendations, answering questions and sharing additional information with restaurant patrons
Waiter tại Saigon Van Restaurant
Dunedin, New Zealand -
11/2013 - 7/2015
• Assist the kitchen in preparing food • Wash dishes and provide customer service • Greet and escort customers to their tables • Present menu and provide detailed information when asked (e.g. about portions, ingredients or potential food allergies) • Offer menu recommendations upon request • Serve food and drink orders • Deliver checks and collect bill payments
Compass F&B Attendant tại Forsyth Barr Stadium
Dunedin, New Zealand -
6/2015 - 9/2015
• Responsibilities include offering the highest standards of customer service in serving food and drink to our thousands of guests, clients and customers attending each event • Operating as part of a small or large team • Adhering to all health and safety policies and helping to provide a fantastic experience.
Restaurant Duty Manager (Acting Area Manager) tại Asian Garden Hospitality
Dunedin, New Zealand -
7/2015 - 11/2017
• Manage human resources • Responding efficiently and accurately to restaurant customer complaints • Coordinating daily restaurant management operations • Delivering superior food and beverage service and maximizing customer satisfaction • Organize and supervise shifts • Control operational costs and identify measures to cut waste • Ensure compliance with sanitation and safety regulations • Train new and current employees on proper customer service practices • Implement policies and protocols that will maintain future restaurant operations
Hanoi -
12/2017 - 10/2017
• Supervise customer services on a daily basis • Manage par stock level • Organizing workflow and ensuring that employees understand their duties or delegated tasks • Monitoring employee productivity and providing constructive feedback and coaching • Receive complaints and resolve problems • Pass on information from upper management to employees and vice versa • Ensure adherence to legal and company policies and procedures and undertake disciplinary actions if the need arises
Hanoi -
3/2018 - 10/2018
• Help organize internal and external meetings and prepare related documents • Create plans and schedules • Complete and keep track of revenue/ stock reports • Contribute vision and provide solutions on issues
Assistant Restaurant Manager tại Asia Harmony Ltd
Hanoi -
11/2018 - 5/2019
• Overseeing restaurant staff performance, ensuring quality dining • Prepare shift schedules • Calculate future needs in kitchenware and equipment and place orders • Keep detailed records of daily, weekly and monthly costs and revenues • Customer relation • Arrange for new employees' proper onboarding (scheduling trainings and ordering uniforms) • Gather guests' feedback and recommend improvements to the menus
Owner tại Nup Hometel
Hanoi -
6/2018 - 9/2019
• Self-Design the project from scratch • Follow up construction steps from dismantling and new construction • Select and shop for furniture according to each style of the room. • Set up sales, communication and customer support systems • Recruiting and training employees • Working with booking partners, social networking sites, magazines to promote hometel. • Responsible for the number of rooms night sold, sales and experience quality of the guests.
Hanoi -
5/2019 - 9/2019
• In charge of setting up outlets including stock monitor, human power and outlet layout • Build and execute service procedure to establish practices according to certified standards • Responsible of recruitment • Design menu • Manage all F&B and day-to-day operations within budgeted guidelines and to the highest standards • Preserve excellent levels of internal and external customer service • Identify customers needs and respond proactively to all of their concerns • Establish targets, KPI's, schedules, policies and procedures • Report on management regarding sales results and productivity
Relationship Manager tại AIA Vietnam
Hanoi -
9/2019 - 6/2020
Relationship Manager is the first line of service in a unique, hi-end and financially credible center providing one-stop service to AIA's existing and potential VIP customers. The daily activities of Relationship Manager include but not limited to insurance advisory, lead generation, sales pitching and coordinating with front line operation staffs to ensure smooth transaction and pleasure experience to customer. The role requires good financial and general knowledge together with flexibility in customer handling. • Provide professional financial assistance and/or consultancy to advisory- seeker customers • Provide a one-stop service by offering customers the convenience of having multiple needs met at the branch through high-tech and distinguished frontline customer service • Handle customer's enquiry within the job holder's accountability and ensure the promised turn-around time • Build up and maintain solid relationship and rapport with customers and internal operation staffs to provide good customer service and holistic financial solutions when needed • Assist in organizing events/workshops and operational management of the office
Relationship Management Team Lead tại AIA Vietnam
Hanoi -
5/2020 - 1/2021
Achievements • Announced best new joiner in the second month joining nest • Achieve and exceed the monthly and quarterly target in 2019 until today • Got promoted into sale team lead after 8 months of working at nest as Relationship Manager Customer Service Management • Monitor Relationship Managers to maintain "Do the right thing" attitude and keep excellent customer' satisfaction with daily activities. • Being role model in personal branding and deliver exceptional customer service myself. Meanwhile engage and motivate other colleague to follow the company's values. Recruitment and people development • Work closely with HR recruitment team to recruit quality relationship manager • Aware and keep track of low performance members and active immediately Operation Managements • Drive all staff to follow Code of Conduct as well as Branch's operation.
Corporate Partnerships Manager tại Genetica
Hanoi -
2/2021 - 3/2022
• Responsible for branch sales in Hanoi & Northern Area (SeABank Project) both internal and external clients. • Build sales scripts and support sales team. • Training the bank's sales team. • Prepare and deliver appropriate presentations on products and services. • Ensure the availability of stock for sales and demonstrations. • Work with partners to implement sales promotion programs to achieve set sales targets. • Negotiate/close deals and handle complaints or objections. • Operation tasks on daily basic.
Life Advisory Manager tại AIA Vietnam
Hanoi -
1/2022 - Hiện tại
• Managing and developing team business • Recruiting consultants suitable to the business situation and strategy • Building a professional and friendly working environment among members. • Coaching, training and guiding the team to achieve the target. • Making business plans/implementing business activities according to committed targets. • Fully participate in the company's senior training programs to improve financial knowledge as well as develop management skills. • Planning and strategy to find potential customers. • Analyze and evaluate potential markets to come up with appropriate development strategies Coordinate/support with other team leaders and Sales Department to realize the common goals of the Company.