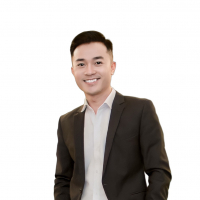 Trương Quang Thới (Alvin Trương)
Housekeeping Manager/ Executive Housekeeper
I boast an extensive 17-year track record in the Hospitality industry, distinguished by my impressive tenure as Room Division at the prestigious Saigon Hotel in HCMC for nearly 5 years, as well as my distinguished 3-year tenure as Housekeeping Manager, and illustrious 10-year tenure as Housekeeping Supervisor at the revered Rex Hotel Saigon. My eclectic proficiency spans the Housekeeping and Reception domains, having served at various notable 5 and 4-star hotels in the heart of HCM City. As a dynamic and driven individual, I am keen to augment my skillset and advance my career trajectory. It would be an absolute privilege to collaborate with your esteemed organization.
Họ và tên
Trương Quang Thới (Alvin Trương)
Địa chỉ
Hiep Binh Chanh Ward, Thu Duc District, Ho Chi Minh City
Kinh nghiệm làm việc
Từ 10 đến 20 năm
Vị trí
Trưởng bộ phận/ Trưởng phòng
Mức lương mong muốn
Thỏa thuận
Nơi mong muốn làm việc
Tiếng Anh (Giỏi)
Ngoại ngữ
Tiếng Anh (Giỏi)
Mong muốn về công việc
Adopting the management and operational methodologies of prominent hotel conglomerates.
Training, coaching & SOP writing skill

100%

Communication, planning and organizational skills, time management

100%

Self-motivator and the ability to motivate others

100%

Making decisions competently, accepting responsibility and being dependable

100%

Adaptability and flexibility gained through abroad studying in different culture and climate

100%
Hồ Chí Minh -
11/2018 - /
- Highest responsible for managing the operations of the Rooms Division, including Front Office, Housekeeping, Laundry, and Security. - Responsible for overseeing the day-to-day operations of the Rooms Division, ensuring that all departments are working together effectively to deliver high-quality service to guests. Including managing staff, setting and implementing policies and procedures, and maintaining the hotel's reputation for cleanliness and quality. - Responsible for writing standard operating procedures, recruiting, training, and supervising staff in all departments, ensuring that they are providing excellent service to guests and following all policies and procedures. - Responsible for maintaining the physical condition of the hotel's rooms and public areas. Including overseeing repairs and upgrades to rooms, finding suppliers for necessary equipment and supplies, and ensuring that all equipment is kept clean and in good working order. - Responsible for monitoring guest satisfaction and addressing any customer service issues that arise. This includes responding to guest complaints, coordinating with other departments to resolve issues, and gathering feedback to improve service quality. - Responsible to work collaboratively with other departments, including Sales and Marketing, Food and Beverage, and Maintenance, to ensure that the hotel is operating efficiently and meeting guest needs, analyzing data, reviewing reports, and making strategic decisions to improve the hotel's operations. - Responsible for ensuring that the hotel's Rooms Division is running smoothly and providing exceptional service to guests, and proposing new solutions to General Manager.
HOUSEKEEPING MANAGER (EXECUTIVE HOUSEKEEPER) tại Silverland Hospitality
Hồ Chí Minh -
8/2015 - 11/2018
- Highest responsible for overseeing three sections - rooms, public area, and laundry - and creating standard operating procedures and policies for the department. - Responsible for training staff to work within these procedures, managing staffing levels, and planning upgrades and repairs for rooms. - Additionally, responsible for sourcing suppliers for facilities and equipment, interviewing staff, setting up rooms to meet 4-star hotel standards, collaborating with other departments, and reporting directly to General Manager. - Planned and estimated purchases, designed forms for department activities, resolve customer complaints, motivated staff, and propose new solutions to General Manager.
Hồ Chí Minh, Việt Nam -
3/2006 - 7/2015
- Responsible for managing, training, and supervising all staff, assigning tasks at the beginning of each shift, physically inspecting guest rooms, and creating room status reports twice a day. - Double-check and prepare VIP rooms, follow up on DO NOT DISTURB rooms, maintain equipment, handle Lost and Found issues, monitor completed tasks, and ensure sufficient inventory. - Promptly report any health or safety concerns, and work within hotel policies. - Other responsibilities include decorating and creating impressive rooms, developing business plans, planning purchases and maintenance, and coordinating with other departments to complete work effectively. - Co-operate with the front desk to resolve customer complaints immediately.
Nguyễn Thị Xuân Đào
General Manager of Majestic Hotel -
Majestic Hotel
ntx.dao14@gmail.com - 0909483378